What is a REIT / Nonlisted REIT?
What is a REIT / Nonlisted REIT?
REITs pool the capital of many investors to indirectly invest in a professionally managed commercial real estate portfolio. REITs must pay distributions to stockholders equal to at least 90% of "REIT taxable income," subject to certain adjustments. REITs are not typically subject to federal corporate income taxes, thus eliminating the "double taxation" (taxation at both corporate and stockholder levels) generally applicable to a corporation. REITs are considered an option for generating income.
A nonlisted REIT has all of the above characteristics but its shares are not listed on a public exchange. A nonlisted REIT is focused on buying and managing new assets purchased in the private real estate market. Eventually, as part of its lifecycle, a nonlisted REIT may list on an exchange or may merge with or be sold to a listed REIT. However, nonlisted REITs do not offer the liquidity of listed REITs and there is no assurance that a nonlisted REIT will have a liquidity event. Investors in nonlisted REITs generally are seeking income from distributions over a period of years. Listed and nonlisted REITs are registered with and regulated by the Securities and Exchange Commission (SEC).
Investors should bear in mind that investing in the shares of a nonlisted REIT differs from investing in listed securities in significant ways. Shares of a nonlisted REIT have limited liquidity. In contrast, an investment in a listed company is a liquid investment, as shares can be sold on an exchange at any time. Investing in shares of a nonlisted REIT also differs from investing directly in real estate including the expenses related to a nonlisted REIT offering and other fees and expenses that the issuer may pay.
REIT Life Cycle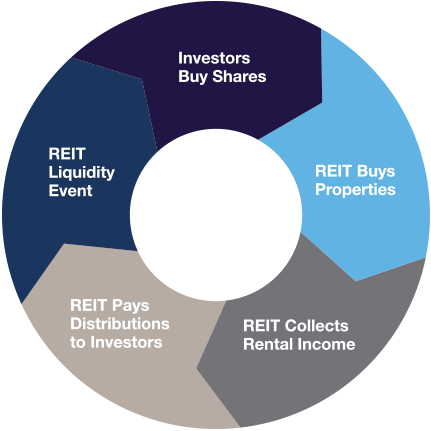 Potential Liquidity Event Process

There is no guarantee that a liquidity event will occur.
This website is neither an offer to sell nor a solicitation of an offer to buy any security which can be made only by a prospectus, or offering memorandum, which has been filed or registered with appropriate state and federal regulatory agencies, and sold only by broker dealers and registered investment advisors authorized to do so.
The Inland name and logo are registered trademarks being used under license. "Inland" refers to The Inland Real Estate Group of Companies, Inc. which is comprised of a group of independent legal entities some of which may be affiliates, share some common ownership or have been sponsored and managed by such entities or subsidiaries thereof including the Inland Real Estate Investment Corporation (Inland Investments) and Inland Securities Corporation. Inland Securities Corporation, member FINRA/SIPC, is dealer manager and placement agent for programs sponsored by Inland Investments and Inland Private Capital, respectively. For more information on Inland Securities Corporation, visit FINRA BrokerCheck.